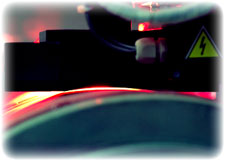 Cylinder engraving
The laser machine consists of a beam projection until a mirror, a lens and a concentrating cell system. Laser stands for Light Amplification by stimulated Emission of Radiation which is quite self explanatory.
Here we employ extra accurate and sensitive soft-ware systems to make graphic files identifiable by the laser machine for processing and execution and modify the laser beam intensity based on the varying tonality of the design hence creating holes with variable sizes and depths.
After that, the customer will receive the suitable window test (based on their print, whether it is for wall or floor application, etc.).
Next, the factory people will run the pigmentation tests under production conditions and report the results to SRS pars co. that will start making the printing cylinder. Once done, the turn comes to QC of the silicon holes and the print and the sample print on paper will be analyzed physically.
1. Flat printing is capable of changing into roto-color printing and engraving on the cylinder based on the plant conditions.
2. Worn-out cylinders or cylinders with similar designs engraved outside Iran are all capable of being regenerated and transferred onto new cylinders at SRS pars co.
3. Print separation: All kinds of foreign tiles, stone, wood, texture and fancy designs are capable of being executed and their colors separated as close as possible to the reference image. At this stage, it is only necessary to run a test on the lithography film prepared under laboratory conditions and after that sends the ratified individual prints to SRS pars co. for the cylinder engraving to be done or otherwise the test band to be engraved on the cylinder.
4. All design orders will be executed as required in different sites. Also all types of engraving for center, random and synched designs are executable.